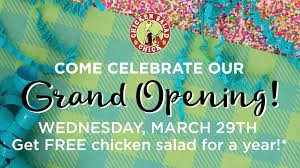 This Wednesday March 29th, be one of the first 100 guests to win FREE chicken salad for a year.
Chicken Salad Chick specializes in a dozen varieties of chicken salad, homemade sides, soups & desserts.
Be sure to stop by the grand opening on March 29th, and pick out your favorite! Chicken Salad Chick on Tundra Dr off Cortez, behind Glory Days & PDQ
**Join DJ Trae and the Boot Team from our sister station, 103.9 The Boot as they broadcast live this Wednesday from 10 to noon at the grand opening of BROOKSVILLE's Chicken Salad Chick!
The Boot team will be giving away all kinds of prizes like concert tickets, One of a Kind Jewelry Gift Certificates, Florida Attraction tickets, 103.9 Boot swag… and so much more!