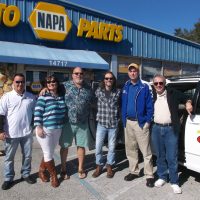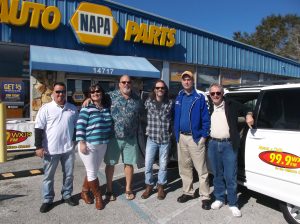 It was a brighter day Wednesday of this week when Mike Shaw was given a completely refurbished Mini Van From NAPA and 1039 The Boot along with WXJB radio.  The idea was floated by NAPA to find a listener to donate a vehicle that could be fixed up and given to a needy family or individual. Bo Bice of "American idol" fame who is a local resident and listener of JB radio donated a vehicle he no longer had need of. People were able to apply for the Mini Van by submitting an essay telling their story of need. Over 40 essays where received and reviewed by our judges. Mike Shaw's story was deemed the most worthy although there where many heart stirring contenders. Just before Bo Bice handed him the key he shared a bit of his story on the air.
Here is the text from Mike's entry.
Good Morning!
Where to start??  This email will hopefully lay out why our family is 'deserving' of this van. First, introductions…my name is Mike. My wife is Stephanie, and my boys are Justin (27), and Zachary (19).  Our oldest, Justin, has cerebral palsy, and has been a quadriplegic since birth.  He is a miracle baby, as docs told us he wouldn't make it 10 minutes…then he wouldn't make it through the night, then he wouldn't make it to his first birthday…you get the gist. Well, now 27 years old, he has beaten all their projections.  Zachary, despite some very difficult early years with 3 different 'diseases', is doing pretty well, and for his privacy reasons, we'll leave it at that (teenagers…sheesh!).
I worked very hard over the years to take good care of my family, even changing careers mid-stream after our youngest was born, as my wife just needed the help at home with two very sick little boys, a 'luxury' that my earlier career did not afford us. Things were going great until 2010, when I unfortunately blew out my back.  The next 5 years were pretty tough, with me having one spinal surgery after another, but we made it through (and I can still walk!).  Other than debilitating chronic pain, the worst part of this disaster is that I can no longer work.  Running a household is tough on a reduced income, but again, we made it…for several years.
Fast forward to one morning in early 2019.  Loading Justin's minivan for yet another doctor's appointment…and BANG.  Suddenly we had a minivan with no engine, which was our only means of transporting our guy anywhere. After 10+ years of not working, our finances preclude us from running out to buy a new van.  This year has been very tough, with us having to rely on medical transport provided by his insurance.  We are VERY grateful to have this service, but it's tough on our little guy.  After looking at the minivan at the NAPA store in Hudson yesterday, I am confident that this van would literally change his life for the better.  As far as being outfitted for transporting Justin, all that we would have to do is to put his special needs car seat (I measured…it fits!) into the back seat, which reclines as is necessary for him, then to maybe put a tow hitch on the back so that we can carry his wheelchair with us (simple installation, and can probably be purchased from NAPA!), and he'd be ready to go!
Winning this vehicle would mean that Justin would once again have the ability to participate in life, instead of watching it go by from his bed or wheelchair. One of his favorite activities is going to Hudson Beach for a picnic lunch and watching the dolphins and basking in the breeze and sunlight.  He has not done this once this year.  This van will hopefully change this.
Whether we are chosen as the winners or not, We'd like to thank you for holding this contest.  It is so cool that someone's life will be made better, and all from our little local radio station.  Thanks for being an important part of our community. (no, I'm not kissing up! I actually mean that!) lol
Regards,
Mike Shaw
——————————————————————————————–
NAPA and JB radio wish Mike and fer family continued blessing and happy traveling.